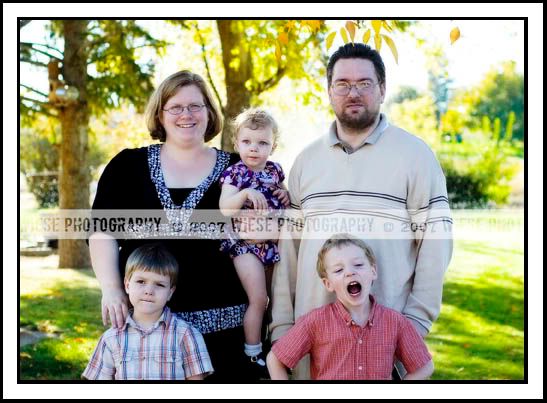 Alot has been going on and I mostly post on my myspace blog but wanted something with more spitfire so here I am on Blogger...
The above picture is of my family taken by my mom in October of this year.
I am the mom of three beautiful children: Aaron is 6 and in the first grade. Sam is 4 and in preschool. Ruth is almost 2 and stays home with me while the others are at school. I am married to the most wonderful guy in the world - at least mine anyways. He completes me - corney I know but sooo true. We have been married for 7 years in March it will be 8. We found out he has a brain aneurysm. All we have been told is it's a ticking time bomb waiting to explode and he won't stroke out but when it bursts he will just die. Scary stuff. It would be nice if we got more information but the VA and military who are treating him since he returned from Iraq in 2003 have been less then forthcoming with any information - except to tell us he needs to relax and be calm and not get overly excited and keep his blood pressure under control and cholesterol...
The holiday's are a struggle for me as it was a time to spend with my grandparents and they are both gone now. My grandmother lost her battle with cancer last December and my grandpa couldn't live without her and chose to leave this world the end of September this year. I was really close to both and miss them terribly. I am so greatful I have lots of pictures of them to share with my children so they can get to know them as well - even if it's thru pictures.
I am a photographer with a budding business. Right now it's kinda on the back burner as I try to deal with all the military hoopla and VA crapola. Lots of paperwork and nagging. Both of which I am very good at - or at least I am now. Haha.
Well thats whats going on in my world and quick snap of my little world. Stay tuned for more to come. I am going to try to write here at least once a day and to post images of family stuff and so on.