I am selling my Nikon N80 film camera body that I would like to sell for $100.00
and my Sigma 55-200 mm D (1:4-5.6) that I would like to sell for $100.00 (it has a Hoya 55 mm UV filter and a Cokin Circular Polarizer and a nice lens hood)
you can buy them individually or if you can purchase them together for $180.00
Both the lens and camera are in good working order. I just can't see having them sit and collect dust. I used them when I did my own b&w prints. It's a great little camera and the lens is great for outdoors.
I am trying to clean out what I don't use to help save for a new camera.
I take payments thru paypal and if product would need to be shipped please add $10 for S&H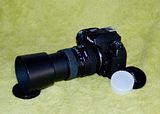 I have 23 playstation 2 games for sale - I would like to sell as a group for $95.00 or If you want to buy them individually it would be $5.00 per game. You can pay thru paypal.com. Please add $10 in S&H fees.
LIST of Titles and their ratings:
* Twisted Metal: Black K - Rated M - (2 copies)
* Power Rangers: Dino Thunder - rated E
* 007: Everything or Nothing - Rated T
* SOCOM II: US Navy Seals - Rated M
* The Incredibles - Rated T
* Champions of Norrath - Rated T
* Medal of Honor: European Assault - Rated T
* Spiderman - Rated E
* Fire Warrior - Rated M
* X-Men: Ledgens - Rated T
* Need for Speed Underground 2 - Rated E
* Goblin Commander: Unleash the horde - Rated T
* Marvel Nemesis: Rise of the imperfects - Rated T
* The Sims - Rated T
* Finding Nemo - Rated E
* Resident Evil: Outbreak - Rated M
* Teenage Mutant Ninja Turtles 2: BattleNexus - Rated T
* Hitman: Contrats - Rated M
* Destroy all Humans! - Rated T
* Lego Star Wars - Rated E
* Star Wars Battlefront - Rated T
* Star Wars Battlefront II - Rated T
* Star Wars Episode III: Revenge of the sith - Rated T