I have known for some time that I needed a new way to keep my jewelry because my daughter, Ruth, seems to think that all my jewelry is hers and constantly takes my most prettiest pieces and subsequently looses them. So while at the goodwill today I found a cute little jewelry box
(well really it was ugly, but I knew it had potential)
. I spray painted it black and it just turned out beautifully
(only if you don't look too hard, I am still learning the spray can technique, but I am happy and that's all that matters, right?)
(the middle drawer folds out to reveal a nice area to put your rings)
Ruth has been fascinated with the little hair bows that I bought from one of the gals at church and because I am trying to be a bit more frugal I looked up how to do them and of course I found ribbon on sale and discounted flowers & pretties that can be put on "alligator clips" and of course because I couldn't find my own glue gun (it's packed somewhere) I bought a $2 with some glue sticks. Now because I made so many I needed a fun way to hang them and found a cute little picture online using a picture frame & some ribbon. So while at the goodwill I searched out a picture frame. The one I found was less then desirable but I knew with a coat of paint it would be perfect. I slapped on the ribbons and I am not done, I am going to add fabric to the back and make it a bit more sturdy. But it's great for now.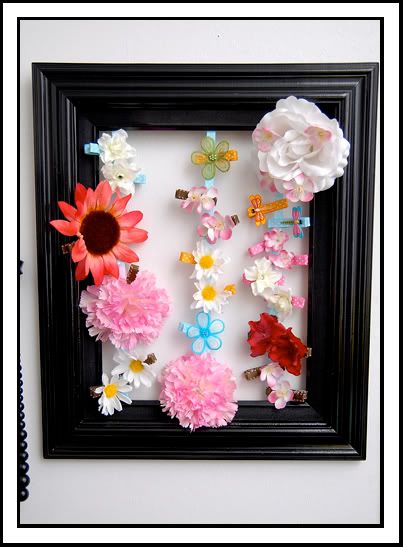 (the hair stuff in the image were created by me, Ruth loves 'em and wants me to make more. I think I am going to be adding these to my Christmas baskets this year)
Now because I wanted to keep my necklaces up higher and out of Ruth's reach I found a fence like spring form thing and knew it would work for my necklaces, of course a nice coat of black paint helped bring it all together with all the other items I got from goodwill.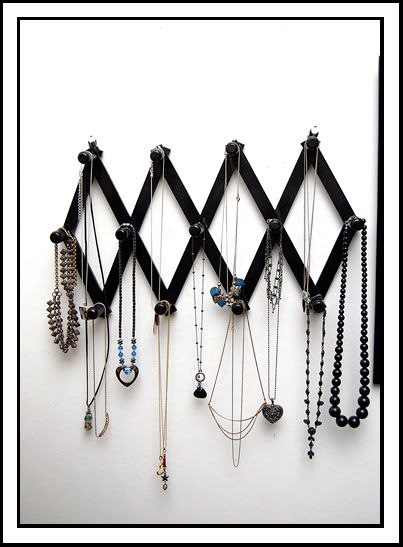 (do you notice I don't have any bright colored necklaces anymore, Ruth has lost them all...I need more color!)
So what do you think? For under $8 I got a cute way to display my necklaces & Ruth's hair clips and a new place to store my other jewelry. I am sooo happy with how they turned out, even if the paint job isn't the greatest, I know I will get better in that area.