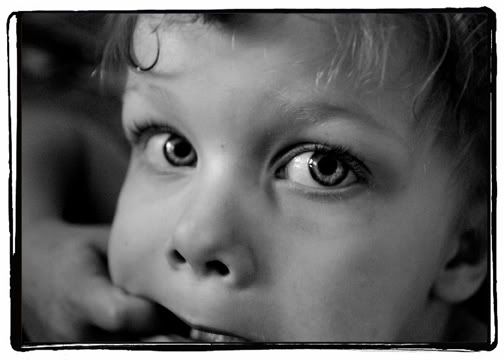 I took a few quick snaps of Ruth when she saw me pull out my camera to upload the images taken during Sam's class. She was being silly and I wanted to work a bit on my more moody b&w's so I snapped a few. She loves to see herself up on my computer screen - as well as everyone else too. She will sit next to me when I am editing and ask TONS of questions about "who, what & where" the images were taken.
I have been working on a project for Sam's teacher and soon will be done with it. I also got a class picture taken of her class - mostly just for me but something she could pass out to her students to take home too. I enjoy taking pictures for the teachers.
I have a wedding this weekend at Cannon Beach. It should be fun and exciting to say the least. It will be my first BEACH wedding - I hope the weather holds and is nice. (fingers crossed and knocking on wood...lol)
We have decided to just stay where we are at - yes, we hate the apartment we live in but we want to save up as much as we can before moving back to Idaho after the school year ends. So look out next summer for us in Idaho!!
The kids first week of school went really well despite the fact that I had to drag Sam kicking and screaming to school the last 2 days of last week and yesterday. But that's all in the past and he went down with William and Aaron to the bus stop this morning without any fuss because he knew if he started pitching a fit I would drive him to school and drop him off at the office where he would sit until he calmed down...he doesn't like that much at all. I am sure by next month he will be all settled and into a nice routine.
Well I need to go and clean house before picking up Sam. I can't wait til next week when he will be all day kindergarten and will ride the bus home with Aaron.