A few days ago I made chicken & rice for dinner w/a nice side salad. Super easy and simple to make. kids love it as does everyone else.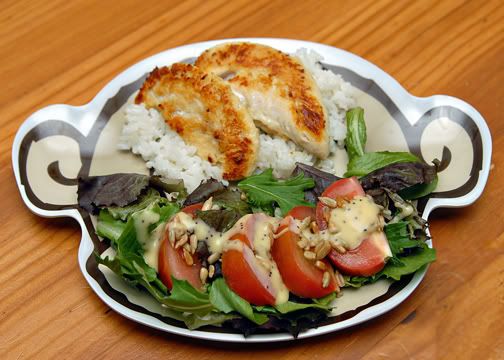 Ingredients:
Chicken tenders
oil (I used grapeseed oil)
1 cup dry rice (I like medium grain rice)
2 cups water
salt & pepper to taste
salad mix
tomatoes
sunflower seeds
dressing (I used poppyseed dressing)
Directions:
For Rice:
Add 2 cups of water to a sauce pan. Add a tsp of butter or grapeseed oil. Bring to a boil then add the 1 cup of dry rice. Cover and reduce heat to simmer/low. Cook for 18-20 min until water has evaporated and rice is fluffy.
While the rice is cooking start work on the chicken:
Take the chicken tenders and salt and pepper each side. Add a small amount of oil to your pan. Once hot add the chicken tenders. Cook for about 7-10 min on each side.
Once the chicken and rice is done plate it up, add a nice side salad or vegi of your choice and your all done.
Takes all of 20-30 min from start to finish.