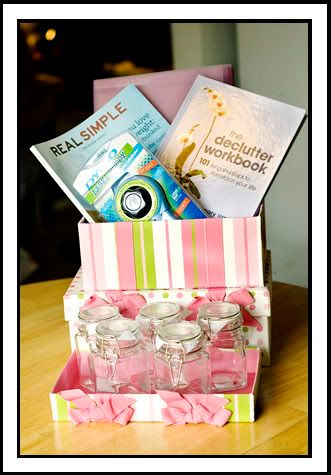 I was able to participate in an organization swap.
Jenny B.
was my Swap partner. I was looking forward to getting home from Washington and checking my mail for a package slip. It was there but I couldn't pick up the package until today. I just opened the package and oh my goodness, it was plum full of goodies! All good things that I could use to organize my office!
The package included:

5 - beautiful clip jars
(to hold varrious items such as paperclips, staples, thumbtacks and I have so many other ideas too!)

2 - pretty boxes w/bows
(great for holding my photograph packaging)

1 - label maker w/extra labels
(great to mark where things should go! It will help keep me organized!)

1 - 5 pocket file folder
(super cute and very much needed!)

1 - "Real Simple" magazine
(great ideas stored in that magazine)

1 - book called "The Declutter Workbook"
(I have been wanting this book for a while!)
I am so excited to get organized and make my office space less chaotic and I think I have a super great start here because of Jenny! Thank you so much - I just love everything!!