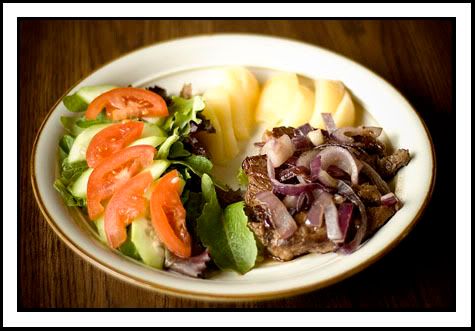 So I decided to fix a really nice lunch today, it consisted of a really nice cut of beef - medium rare - topped with sautéed red onions, a handful of baby greens topped with sliced cucumbers & roma tomatos and sliced pears. YUUUUMMMY! It turned out really nice and because the presentation was so pretty I thought I would take a picture of it - the kids of course wanted pb&j sandwiches with sliced apple and peanut butter but that was ok because William loved it! YEAH!
I forget how much I love to cook until I am in the kitchen fixing something great. I really need to get back into the habit of fixing food I love instead of catering to the kids all the time. The boys are starting to drive me crazy with their whining about being hungry and then when I fix them some good food to eat (food I know they like) they say "I don't want that" or "I'm not hungry" and then don't eat it and then 30 minuets or so later they are complaining about being hungry again. Lately there is just no pleasing them. It's really annoying, especially when I spend time fixing and preparing a really nice meal and they snub their noses at it.
Well I gotta go - William is calling and wanting me. I will write more later. Hope your weekends are going great!