I had some good food and great adult conversations at the Taste of Homes this month, (the theme was "holiday treats" and boy was it ever a treat). I think I gained like 20lbs from all the yummies the other gals brought.
I snagged a few quick pictures with my camera phone (not the greatest quality - but whatever).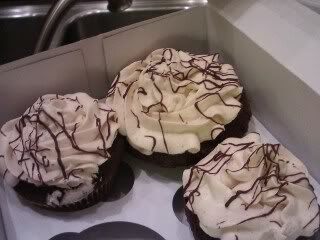 (These are my cinnamon mocha cupcakes w/spiced whip topping)


(see the yummies everyone brought!)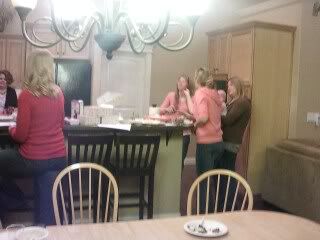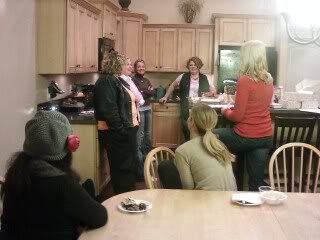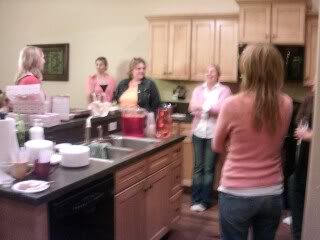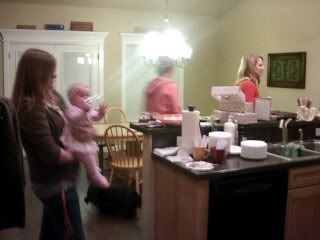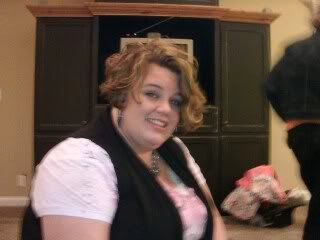 (My bestie, Michelle, hosted the event and I am glad she invited me!! it was sooo worth the drive!)

I made my Cinnamon Moca Cupcakes w/spiced whip topping - I think it was a big hit with everyone, (at least they said it was good and they wouldn't lie to me, or would they?). Below is the recipe for both the cupcake & whip topping. Enjoy!
Cinnamon Mocha Cupcakes
Makes 24-32 cupcakes *depending on the size of your cupcake pan*
1-1/2 teaspoons vanilla extract

2-1/2 cups and 2 tablespoons all

1-1/2 teaspoons baking soda

3/4 teaspoon baking powder

3/4 teaspoon ground cinnamon

3/4 cup strong brewed coffee,

(to make buttermilk use 1tbs vinegar to 1 cup milk)



| | |
| --- | --- |
| 1. | In a small mixing bowl, cream the butter and sugar. Beat in egg and vanilla. Combine the flour, cocoa, baking soda, salt, baking powder and cinnamon; add to creamed mixture alternately with coffee and buttermilk. |
| 2. | Coat muffin cups with nonstick cooking spray or use paper liners; fill half full with batter. Bake at 350 degrees F for 18-20 minutes or until a toothpick comes out clean. Cool for 5 minutes before removing from pan to a wire rack to cool completely. |
| 3. | Place the frosting in a bowl. Dissolve coffee granules in hot water; stir into frosting until smooth. Frost cupcakes. |
3 cup heavy whipping cream
1/2 teaspoon cayenne pepper
1/2 tablespoon semi-sweet chocolate chips, chopped
1 teaspoon red chili flakes
In a large bowl, beat the whipping cream until soft peaks form. Slowly add the brown sugar (make sure you use fresh, soft brown sugar or else the cream will come out grainy), mixing until the cream is thick enough to pipe on top of cupcakes. Stir in the cayenne.