I have been looking for recipes and came across this delightful chocolate cake over at
Salsa Pie
and I loved that it didn't include milk or eggs,
since I didn't have either one in my fridge at the time
and wanted something sweet. I did however have everything else! I made it up for our weekly game night and it was yummy!! I got great reviews on it and the best part about this recipe is that the cake isn't too sweet!!
This is a great recipe for those who have allergies to dairy or eggs because it doesn't have any milk or eggs. (redundant I know!)
1-1/2 cups unbleached flour
3/4 cup sugar or other sweetener
3-4 tablespoons cocoa powder (I used 4)
1/3 cup vegetable oil (or applesauce. I used oil)
Directions:
Preheat the oven to 350 degrees. Combine the flour, sugar, salt, baking soda, and cocoa powder in a bowl and stir with a fork until mixed. Make a well in the center and add the vanilla, oil, vinegar, and water. Stir with a fork until well mixed. Spray your pan with cooking spray. Pour into a 9x9-inch baking dish, or cupcake pan, or bundt pan, (I used my grandmothers shell mold pan) and bake in the preheated oven for approximately 30 minutes, or until a toothpick inserted in center comes out clean.
Allow to cool at least 10 minutes before you turn onto a plate. I think if you turn this little guy onto a cookie rack for cooling it might be too crumbly.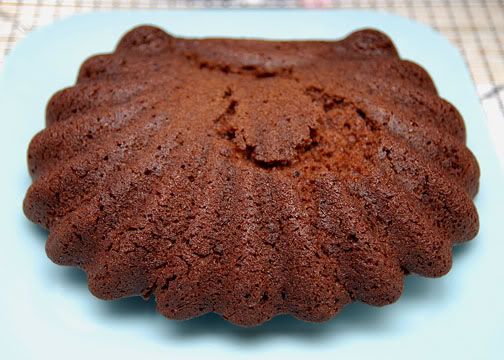 (I took it out a bit too early so I got a little bit of sticking)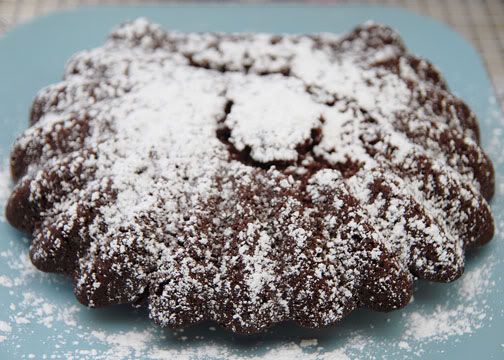 (but add some powdered sugar and the blemish goes away!)