WINNERS have been choosen please go HERE to see winners!
I heard about this wonderful tradition that has developed in the last few years. Lisa "oceandreamer" Swifka came up with the idea of
One World-One Heart
in 2007 to coordinate a giveaway to introduce bloggers to one another. She and most of the participants are artists, so you could be a fortunate recipient of a piece of beautiful art.
Winning the giveaway isn't really the point. (Of course, everyone likes to be a winner.) It's a way to touch other people's hearts in a sincere manner. It fosters an audience for new and established blogs. It's an icebreaker to encourage people to introduce themselves on a global level.
And now on to the rules of this give-a-way:
1. Leave a comment to THIS post only.
2. Leave a way for me to contact you (email or blog address) - if I can't get ahold of you how am I supposed to send your prize(s)?
3. Tell me where your from and your favorite color.
4. Enter before 11:59 MST on February 11th.
5. Enter one time only, please.
That's it. Super easy to enter.
Winners will be drawn randomly and posted February 12th (names w/comments will be cut into strips and drawn from a hat)
Now onto what you will receive if your name is pulled out of the hat:
* A tin of my homemade peanut butter fudge (supper yummy & sinfully delicious!)

* A Vanilla Sugar Cookie spa set which includes: bath soak, bath fizz, body wash, cream bath, body lotion & body polisher

* 4 lemon mint votives

(spa set)



(votives)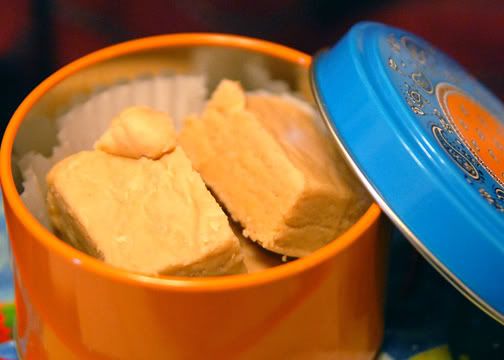 (peanut butter fudge)