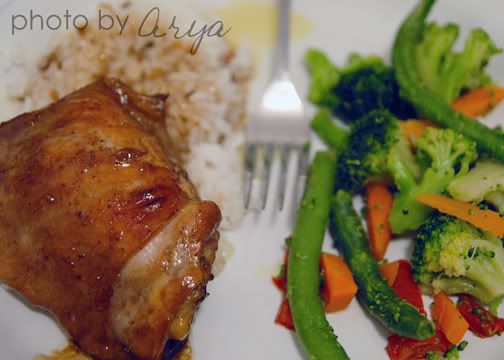 I made some yummy Teriyaki Chicken for dinner tonight. Below is the recipe I found somewhere on the internet. It's fast and easy and oh so yummy!
I am so sorry I have been neglecting my blog and obviously I have failed the challenge to write on my blog everyday of February. I do have a good excuse, I have been wrestling with a nasty little head cold and it was getting the best of me, but not to worry I did rally and kick it's butt.
(that's right, I said butt on my blog - a teacher told Sam that butt was a bad word, I don't think it is but I told him not to say it at school. For what it's worth, Sam called a classmate who was being mean to him "A BUTT". I have heard worse come out of the other kids mouths at school. But I digress....on to my apology...)
Valentine's day is coming up, (as in tomorrow), and I am planning to do NOTHING but hang out with my kids and hubby. We are going to take it easy and just relax & watch movies all day long. It's going to be a great valentine's day.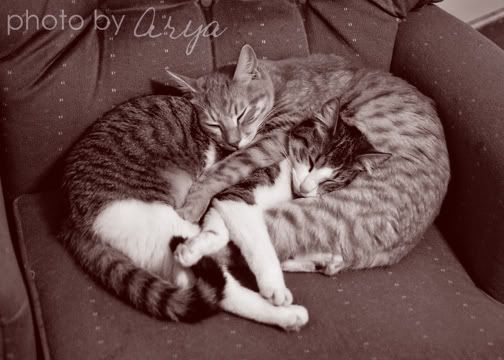 I snagged a picture of the cats sleeping in the rocking recliner, they kinda looked like a heart, ya know since valentines is coming up all I see is hearts...well am I right, do they look like a heart?
I figured out why Sam has been having anger issues lately,
(screams, yells, balls his fists and gets overly mad & starts getting violent and saying "how no one loves him")
, it's because he was imitating his favorite super hero "The Hulk". When I figured that out Sam and I had a long talk about the appropriate ways to handle his anger and how he needs to emulate other supers who don't get violent when getting mad and how words will help resolve the issues. It seems to have worked because no outburst of violence today. Amazing how a small change in behavior changes how a day goes.
On to the recipe:
Teriyaki Chicken
1/4 cup apple cider vinegar
12 chicken thighs with skin removed (or any meat you want with or without the skin)
Whisk together all ingredients (except chicken of course), and cook in a saucepan over medium heat till thick and bubbly. Place chicken thighs in a greased 9x13" glass pan. Pour sauce evenly over the chicken.
Bake at 400° for 45-60 minutes, turning chicken every 15 minutes.