I saw Eagle Eye tonight and I have to tell you, I LOVED IT!
(meaning I will be purchasing this to watch again and again)
It was full of action, drama and yes, even a bit of humor. It really picked me up out of my mood today. No one came to the party and the kids were simply put, monsters.
Ruth had a complete melt down and the boys just wouldn't listen. So we did nothing, except eat the ribs I made for dinner, with vegi's of course and then I sent the kids to bed so the 'grups' could watch this movie. If you haven't seen it, check it out. It really is a good watch and not a waste of time.
Hopefully the kids will cooperate and we can do the stuff I had planned tomorrow after church.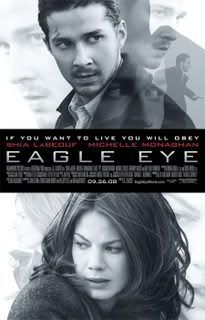 Movie Description: Jerry Shaw and Rachel Holloman are two strangers thrown together by a mysterious phone call from a woman they have never met. Threatening their lives and family, she pushes Jerry and Rachel into a series of increasingly dangerous situations--using the technology of everyday life to track and control their every move. As the situation escalates, these two ordinary people become the country's most wanted fugitives, who must work together to discover what is really happening--and more importantly, why.
Movie Trailer: