So yesterday was the last day of school for the kids - that's right it's MAY and they are out of school for the SUMMER!!!
I went to Sam's small graduation ceremony (just handed out certificates, HE got TWO, one for great attendance & the other for graduating from kindergarten). I took a quick video of him getting his certificate for graduating and wanted to share it with you all...(it's only 15 seconds & recorded on my cell phone).
After Aaron got out of school we took the kids for ice cream at DQ as a celebration to the start of SUMMER!! The kids all got dipped cones and as you can see got really dirty & sticky. (please know that the image below was taken on my cell phone, I don't lug my big camera around with me on a daily basis (I need a smaller camera for that)).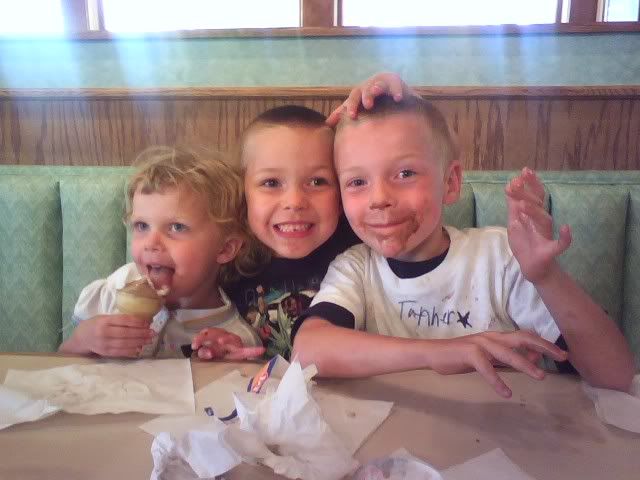 After having fun at DQ I took William, Sam & Ruth home and then took Aaron to the clinic because GUESS WHAT!!! he has ANOTHER ear infection! It took an hour in the waiting room and another 15 in the exam room for a doctor to take one look in his ear to see that I was right and hand me a prescription...Guess what the great thing about it was...the medication was only $3.00 because of our insurance!!!!
So now summer has officially started and life is going to be weekends all summer long! And do you know who else is excited about the kids being home all week long? PATTEN! just take a look at his debut in the video clip below....