I can't sleep so I thought I would process the images I took earlier this afternoon of the gerbils and of the tree.
Here are the gerbils (1 week and 1 day old).
click to view larger
Here are some images of our ornaments hanging on our tree. The cats were painted by my Grandpa Leake while he was in the hospital a long time ago. I am glad I have them on my tree now to remember all the wonderful memories I have of him now that he is gone. I have a lot of homemade ornaments on my tree below are a few of my favorite ornaments. The kids and I are going to make some new ones this year - it should be fun (at least I hope it will be - fingers crossed).
click to view larger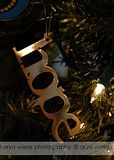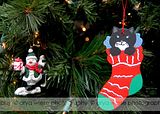 Today I woke up feeling like a freight train had run me over twice and not only was I in pain from my sciatic nerve acting up but I also had a booming headache like you only hear about from those who drink waaaay too much. Because I had promised Sam I would be in his class today I had to go - boy was that a mistake - it made my headache worse because any noise sounded like a stereo up all the way in my head. The kids had fun and I know Sam was happy I was there and so was his teacher because we got a lot done today.
After volunteering Sam & I went home and after lunch Ruth and I layed down for a nap. I could have slept all day long and almost slept right thru the time to pick up Aaron from school.
(boy would he have been upset if I had done that)
When Clay got home we went to do our scheduled grocery shopping - note this was at 5:15pm. After going to Costco & Winco after dropping off the Christmas baskets to my Aunt Jeanie & Dad we rolled into the driveway about 10:45pm. We were both tired and sore and hurting before we left and we were exhausted because not only did we do our shopping but we now had loads of groceries to put away....needless to say it's 1:20am and I am beat but because my head is still exploding I can't seem to get any right now.
I was so glad when my friend Carla called to say I didn't have to be there to her place for her portrait party until later in the afternoon because I wanted to sleep in a bit and get some rest so I could do the best job I could for her. Sunday I think I will sleep all day...my alarm won't be going off anytime that day...I really need a bit of sleep - more then I have been getting, that's for sure.
I did get all my cake balls, cookies and fudge done - although I will be doing up another batch of fudge tomorrow evening to put in my goodie basket with all the extra left overs. Everyone liked the balls - My second and third batch I added raspberry flavoring and peppermint flavoring. A nice change to say the least.
Anywho, my pain meds are kickin in - maybe now I can get some rest before my bit photo shoot tomorrow....Night all!