Well my brother is now officially a free man! He got out of the slammer this morning and is now able to do things without asking for permission, like cooking! He missed cooking. It's been 2 years and now he is going to cook his famous fried chicken and I am going to miss it because I live over here and he lives over there. *sigh* I did however get to talk with him this morning and then again this evening. It was so good to hear his voice. He did call me a *blankity-blank* this evening because of the Twinkie I sent in his Christmas package (something that he did long ago that I just won't let go - and probably never will).
Images taken by my mom - I swiped 'em from her myspace album, since I couldn't be there.

(click to view larger)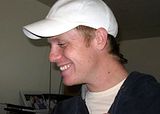 My dad came over and helped the kids build a snowman - well part of one. It got too cold and the powder is just not sticking like it should for making a snowman. Maybe in a few days we will finish the snowman. But they did get most of the bottom of the snowman complete. Now just for the middle & head and then we can do the accessories!
I did make a really nice stew to warm them up - I took the bag of celery hearts and chopped them up, a whole red onion - chopped, a can of stewed tomatoes that I chopped and added some boneless skinless chicken breast tenders that were frozen and after they cooked in the juices I chopped into chunks then I added some abc pasta that I found in the ethnic aisle of the store. Below is the final result. There were no left overs. (oh yeah and some grill seasoning for chicken & salt to taste).

(click to view larger)