So my first batch of peanut butter fudge that I made for my gift baskets turned out really well using a combination of Adams pb & Skippy pb - I didn't want it to have a ton of sugar and revamped a recipe I had to fit my needs. Well I ran out of Skippy and decided since I just use Adams when making pb & honey sandwiches it can't be all bad to use completely for my fudge recipe. I WAS WRONG....it turned out awful! So I ran out and bought some more Skippy - it won't go to waste as it's my Uncle's favorite pb for sandwiches.
I really do like this recipe alot and wanted to share it with you because it's fast and easy to make and tastes ooooh so good.
(click to view larger)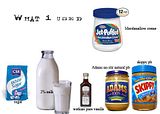 Arya's Peanut Butter Fudge

* 2 cups granulated sugar
* 2/3 cup milk
* 1 cup marshmallow creme
* 1/2 cup Skippy peanut butter (creamy or nutty)
* 1/2 cup Adams peanut butter (no stir pb)
* 1 teaspoon vanilla

Please note if you like super sweet peanut butter fudge you can forgo the Adams and just use 1 cup of skippy.

DIRECTIONS:

Boil sugar and milk in a medium saucepan, stirring occasionally, to soft ball stage*, or about 236° on a candy thermometer. Remove from heat and stir in remaining ingredients. Pour candy into a greased 8x8-inch pan and chill. Cut peanut butter fudge into squares when cool and firm.

*To Test for Soft Ball Stage
A small amount of syrup dropped into chilled water forms a ball, but is soft enough to flatten when picked up with fingers (234° to 240°).
I found this
website
while perusing blogs this morning. It has tons of cookie recipes - some old, some new and all look like fun to make.
This morning while taking the below pictures I was amazed at how quickly Ruth's mood changed - (just take a peek and you will see what I mean). The basket full of goodies are for the cookie exchange. I know not everything in the basket is a cookie but I had leftovers and don't want them to go to waste...

(click to view larger)