...of the treats, some turned out great, while others didn't (user error and not the recipes I had gotten - just me). Anywho, below are the pictures (sorry such awful snaps but I was trying to do it quick before the kids saw them and tried to eat them all up...

(click to view larger)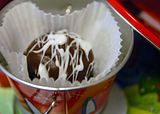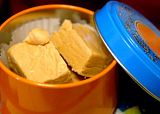 The cake bon-bons turned out fairly well - next time I will let them chill a bit longer so they look prettier and will dip much better. The peanut butter fudge turned out fairly well but would look a lot prettier if I hadn't moved them while they were still in the cooling stage (note the wrinkles that look just awful but boy does it taste yummy!). The cookies were another story, they are yummy but not sure I like how thin they got (again user error, I am sure I did something wrong - probably over mixed it).