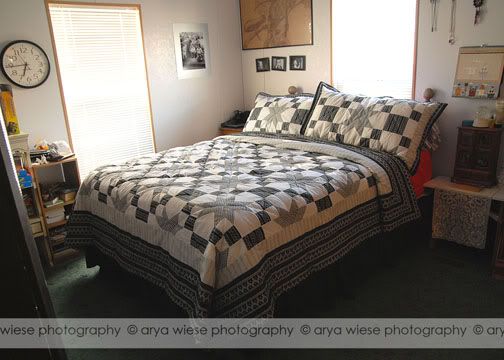 I am trying to revamp the look of my bedroom - it's a slow go but we did get a new bed (we have needed one for sooo long!) and now that we finally have a "grown up" bed and not some dormroom pancake bed. I wanted to start revamping our linens.
I want our bedroom to be a reflection of who we are and a peaceful place to come to at night. (we need to find a new home for lots of stuff in here but we need more room to do that) Right now our room is a mod podge of freebies, hand-me-downs & practicle thrift sale finds.
Anywho, I picked up this cute black & white quilt (it came with matching shams!) at walmart (on sale for 1/2 price) and picked up a black bedskirt. Yes, my sheets are hot pink but they were on clearance for less then what the one I wanted cost (like 2/3rds difference) and as many know me, I tend to sacrifice what I want for what is more practical and more within my budget. I also have shocking teal sheets too, someday I will have just plain white ones.
I want to go more shabby country, but not too girly (William would prefer Asian inspired and I want country inspired so we are compromising on some things) so I am going to go with a more black & white theme in the bedroom with hints of color (reds & whites mostly) here and there.
I am scowering for a nice iron worked bedframe that of course, would stay within our budget, (craigslist and thrift stores mostly) I don't care of the color, it can always be painted (I am hoping to find one in white with some soft scrolling perhaps).
Slowly but surely I am going to have a "grown up" bedroom where hubby & I can relax and just enjoy quite...
**on to the magic....**

William has been teaching the kids how to play "Magic the Gathering" - it's a card game like pokemon. (from what William has told me most of the card games now got their start from magic)
I love that he is teaching them this game, it's helping them with their reason skills and math skills. It's also teaching them to work together and staying on track. It also gives them some bonding time.
Below are some images I captured of them playing as well as a few images of Patten & Ruth trying to get involved. Patten kept moving so fast he is kind of a blur when sitting on my Uncle's lap. He was just all over the place and Ruth played with the boxes that my "gifts" were sent in (she confiscated them as her own when she saw them on my desk...they were the perfect size to hold her mini doggie toys that came with her latest barbie & dog)
Enjoy!