So this month as you know my blog has been neglected and yes, it was all for good reason.
Yesterday was William's birthday!! He's the big 3-2! we kept it low key and we went to the game shop so he could pick up as many miniatures as he wanted. Now there are oodles to paint (I picked up a few too). I made steak on the grill with broiled asparagus and even baked a german chocolate cake with that coconutty frosting he likes. And he got cards from my mom, his mom & his dad too. His dad even called to wish him a happy birthday! It was a nice day of just relaxing and checking out his new booty of miniatures.
--------
We got an inflatable pool for the kids to splash in since the irrigation water is being kept from us by a greedy neighbor...One day it was nice and full and now it's just a mud pit!
But the kids like the little pool better...it has a whale slide that has a small sprinkler. Next month we will get a slip 'n' slide. They are just loving the weather but I think I need to get black out curtains for their windows because they try to use the ploy "It's still light outside so I don't have to go to bed, right?"
It has been warm enough that the air conditioner is now officially on. It's been nice and comfortable but yesterday it got too warm for comfort and there was no breeze, today is another story all together. It's been the perfect temperature outside and a refreshing breeze. Have I mentioned the lilac tree out front is starting to bloom - it's going to be full of blooms soon and that means my home will have that fresh fragrant scent of lilac wafting thru the rooms...lol
-------
About a week back, the kids and I painted clay pots and planted some flowers to set on our front porch to make it more inviting...seriously if the wet clothes, strewn toys and barking dog don't say welcome I don't think the chalked on "welcome" will help either...lol It's all up to the flowers for sure.
-------
I am still looking for great reads for the summer, if you have any ideas let me know and I will try to find them in the book stores. I have forgotten how much I love to read! I love being sucked into my stories and getting involved in their lives - even if it's fiction it's better then what's on tv lately. Am I right?
On that note we have been having the TV off most of the day. We just spend time playing with the kids, reading, painting and photographing moments as they happen and of course trying for baby number 4... ;)
------
I have also been working on painting miniatures and below are 3 that I have done so far this month. The larger ones measure about 6 1/2 cm (that's about 2 1/2") and the smaller miniature is about 3 cm (a little over 1"). I don't know why but I find the larger ones harder than the smaller ones. Not sure why but I just like painting the smaller ones better. What do you think?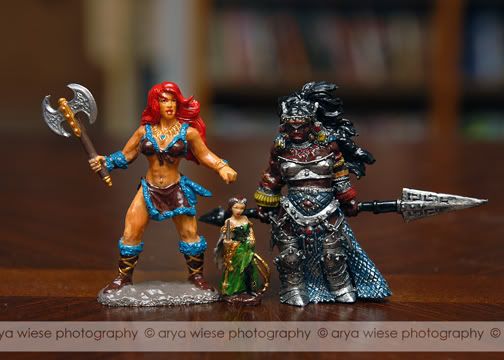 Amazon Princess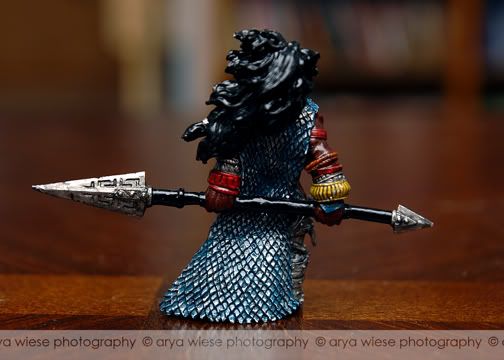 Amazon Warrior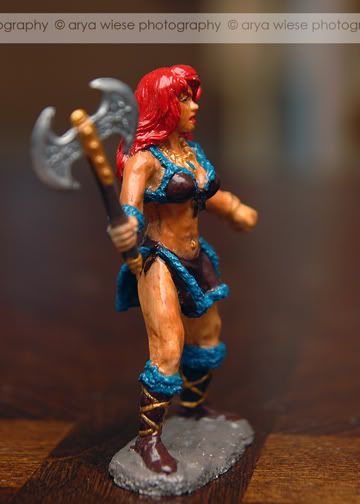 This is my miniature for my new dnd character, Naran
, she looks sorta like my rendering and her long sleeves reminded me of wings...It's the best I can do for now but I think she will do the trick.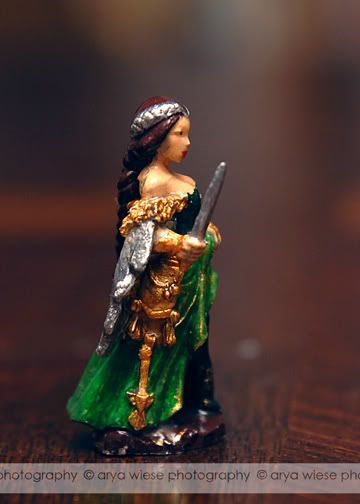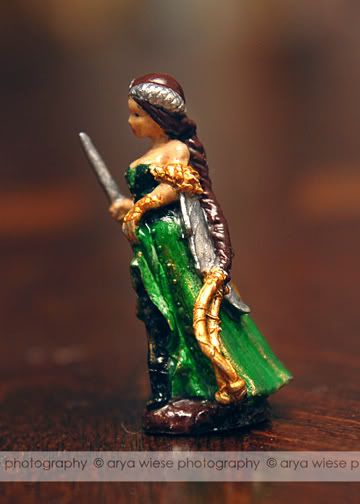 -------
Well that's what I have been doing, basically nothing but sitting around reading, playing, having fun and enjoying my family! Now off to read what you guys have been up to!